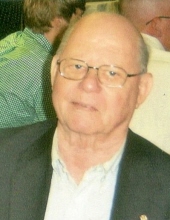 Obituary for James W. "Jimmy" Gilchrist
James W. Gilchrist, Sr., of Edgefield, SC, died on Saturday, December 9th, 2017. "Jimmy" was the beloved husband of Elizabeth Tompkins Hawthorne, "Liz" for 64 years.
The funeral service will be held on Wednesday, December 13, 2017, @ 11:00 a.m. at the Edgefield United Methodist Church, 309 Norris Street, Edgefield, SC. Interment will follow at Eastview Cemetery, Eastview Road, Edgefield, SC.
He was born on Addison Street in Edgefield on April 20th, 1928, in the shadow of a goal post at the Edgefield High School football field. He was the son of the late James W. Gilchrist and Myrtle Morrow Gilchrist of Alabama. He was the youngest of six children: Sara, Hugh, Maurice, Ernestine, and Eloise. The Gilchrist family settled along Stevens Creek in Edgefield County in 1751, to escape many years of oppression in Scotland. Jimmy attended Edgefield High School and joined the US Navy in April of 1945 at the age of 17. He performed destroyer duty in the North Atlantic. During the time of his military service while he was stationed at the Brooklyn, NY, Navy Yard, he attended many big-league ball games, seeing legends such as Jackie Robinson, Joe DiMaggio, and Ted Williams perform. He worked for 30 years and retired from the Owens Corning Fiberglass plant in Aiken, SC. He was a member of the American Legion Hezzie Griffis, Post #30, and the Edgefield Presbyterian Church. Jimmy never met a stranger. He was a beloved and respected member of the Edgefield Community for his entire life. He was passionate in his reading and study of history, politics, sports, and of course the Clemson Tigers. His greatest love was his family, especially his 5 grandchildren and his 2 great-grandchildren. He is survived by his wife, "Liz" and their four children: James Whitfield Gilchrist, Jr., (Dana); Joseph Holland Gilchrist, (Cindy); William Hawthorne Gilchrist, (Carolyn); Grace Elizabeth Gilchrist Knie, (Patrick) and grandchildren: Justin Gilchrist, (Kari); Brianna Gilchrist; Laura Carlisle Gilchrist; Elizabeth Spenser Gilchrist, and Katherine Holland Gilchrist, and great grandchildren: Harper Grace, and Jackson.
Memorials may be made to: The Edgefield United Methodist Church, P.O. Box 25, Edgefield, SC 29824.
Visitation will be held on Tuesday evening, December 12th, 2017, 6:00 - 8:00 p.m. at the Edgefield Mercantile Funeral Home, 801 Columbia Road, Edgefield, SC.
Please sign the online register book at www.edgefieldmercantilefh.com.
Previous Events
Visitation
Edgefield Mercantile Funeral Home, Inc.
801 Columbia Rd. P.O. Box 389
Edgefield, SC 29824
Service
Edgefield United Methodist Church
309 Norris Street
Edgefield, SC 29824
Cemetery Details
Location
Eastview Cemetery
Edgefield, SC 29824
Memorial Contribution
Edgefield United Methodist Church
PO Box 25
Edgefield, SC 29824