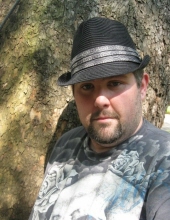 Obituary for Sean Paul Carter
Sean Paul Carter, 40, of Lynch St., Edgefield, SC entered into rest Sunday February 11, 2018.
No services are planned at this time.
Mr. Carter was born in Jacksonville, Fla. and was the son of Rosanne L. Carter and the late Paul M. Carter. Sean had many friends in the world of home sales and had a large following on social media.
Survivors include his mother, Rosanne L. Carter of Edgefield; sister, Brandi Maynard, her husband Bryan, and their son Nathaniel also of Edgefield; sister Shannon Covel, her husband Clarence Covel, and their child Alex of Bloomington, Indiana; sister Kathy Slater, her husband Jay Slater, and her children Erin Cragle, Alexander and Christopher Weidman of upstate NY. He was predeceased by his father Paul M. Carter in 1995.
In lieu of flowers, donations can be made too the family to help with funeral expenses.
Edgefield Mercantile Funeral Home is in charge of arrangements.
Please sign the online register book at www.edgefieldmercantilefh.com.