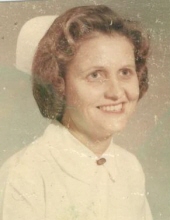 Obituary for Melideen Moore Edwards
Melideen Moore Edwards, 88, wife of the late Kenneth Edwards, of Old Post Road, entered into rest at her home Thursday, February 8, 2018.
Mrs. Edwards was born in Harlem, Ga. She was a retired registered nurse from the University Hospital.
Survivors include; 1 daughter, Melody (Vincent) Hegler; 1 son, Kenny (Linda) Edwards; 2 grandchildren, Christine (Shawn) Bradley and Kimberly (Calind) Rawhoof; 2 great-grandchildren, Emarie and Ethan Bradley; 1 brother, William (Betty) Moore; 2 sisters, Elizabeth (Carlos) Bragg, and Louise (Jesse) Burke.
A private service will be held at a later date.
Memorials may be made to the Alzheimer's Association, 106 SRP Dr. Evans, Ga. 30809.
Edgefield Mercantile Funeral Home is in charge of arrangements.
Please sign the online register book at www.edgefieldmercantilefh.com.